Own a Lucrative Home Improvement Franchise
Explore The Tailored Closet Franchise Opportunity
Work For Yourself, Not By Yourself
Own Your Own Home Organization Franchise Business.
The Tailored Closet Home Improvement Franchise Opportunity Awaits
Ready to own a business in the booming home improvement industry? Look no further than The Tailored Closet, the largest whole-home organization brand in the industry with nearly 200 territories across North America. Just like any home, good style evolves over time. Formerly known as Tailored Living®, we recently changed our brand name to truly reflect the modern and customized service our franchise owners offer their customers – and to reflect what we, the franchisor, offers you.
With the real estate market forcing many homeowners to remain in a home they may be outgrowing, the market for custom storage solutions is surging. As a Tailored Closet franchise owner, you'll focus on helping homeowners become more organized by designing and installing custom closets, home offices, Murphy beds, entryways, mudrooms, pantries and more, to maximize their living space.
With low overhead, high margins, no inventory, and a large territorial footprint, this is an ideal home improvement franchise opportunitiy for those who want to be heavily involved in a business with minimal employees, as well as for the empire builder who wants a management role and growth potential.
The Tailored Closet offers a unique situation where you can start a business that is already backed by a large and formidable brand that can provide lucrative earning potential and a better work/life balance and overall greater security as your own boss.
Now's the time to take advantage of our proven business model, and unparalleled training and support, and own a home improvement franchise that's tailored for you.
A Can't Miss Opportunity
The multi-billion-dollar home organization industry is experiencing exponential growth year after year. Changing lifestyle trends contribute to the burgeoning growth, and we've experienced a double-digit growth in sales for the past five years. Our Tailored Closet franchise owners take home organization to the next level by creating stylish, custom storage and organization solutions for any room in the home. With our franchise opportunity, you will also offer a full line of commercial cabinetry to meet the needs of any business.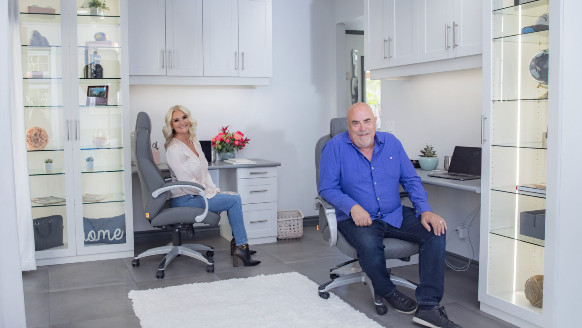 Invest In Your Future
The Tailored Closet franchise opportunity is the perfect investment for business-minded people who desire to be their own boss. You will be going into business for yourself, but not by yourself, having a support team of industry experts to help you every step of the way. With our proven business model, proprietary 3D design software, and access to turn-key marketing programs, you will be quickly on your way to becoming a successful local business owner with a residential and commercial client mix.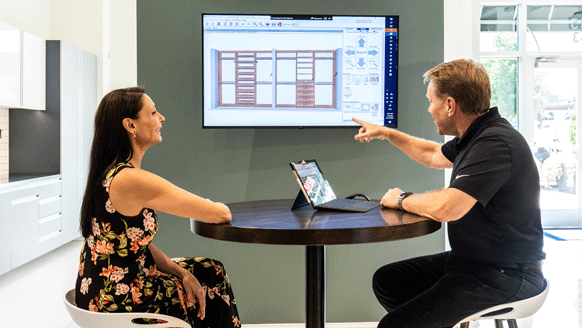 Industry Awards Accolades
To be recognized as the leading solution provider for whole home organization products and services is an honor. We've been delighted to receive a number of prestigious accolades by franchise networks and by the home improvement industry over the years, below are some of our most recent honors The Tailored Closet™ received under our former name, Tailored Living®.