About The Tailored Closet
Own Your Own Home Organization Franchise Business.
More About The Tailored Closet Franchise
Since 2006, The Tailored Closet has empowered entrepreneurs with a proven business model and a path to financial independence, and has delivered unparalleled service and top-notch custom home storage solutions to homeowners. From stunning closets, efficient home offices, and inviting entryways to well-organized pantries, functional laundry rooms, and inspiring craft and hobby spaces – we've got it all covered!

The increasing demand for dependable home service providers to fulfill homeowners' functional requirements has been a consistent upward trend. Year after year, we have witnessed sustained growth, as consumers are focused on home more than ever before.
Why Our Franchisees Love Us
Our non-manufacturing business model is designed to optimize
operational costs, ensuring increased profitability and sustainability.
We possess a remarkable ability to establish strategic partnerships
with industry-leading vendors and brands known for their exceptional
quality and influence, further enhancing the success of our
franchise network.
Our true management-focused business model offers unparalleled
potential for growth and prosperity, providing our franchisees with an
extraordinary opportunity to thrive in the market.
We stay one step ahead of the competition with our innovative
3D design software, enabling us to deliver custom designs and
on-the-spot renderings during appointments. This cutting-edge
capability sets us apart, elevating the customer experience beyond
what most competitors can offer.
A Business Opportunity Designed By You
The Tailored Closet provides an unlimited opportunity for growth and still
gives you something so many other franchises cannot: you set your own
schedule and you determine the time for in-home consultations and other
commitments. Unlike other businesses, or working for someone else,
The Tailored Closet gives you the chance to create an excellent situation
that accommodates your life.
When you become a Tailored Closet franchise owner, you'll be awarded your own protected territory — no other Tailored Closet franchisee will market or service in your local area. That's great for business, but one of the biggest benefits is that you are not in competition with other franchise owners, so you can share ideas and be part of a vibrant business community.
Hear From Our Franchisees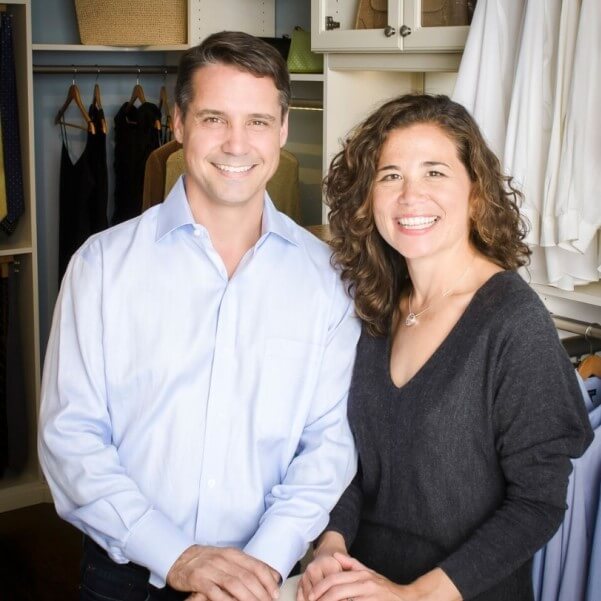 When I have questions, there are very technical people who can help me with specific questions about installation or product parts. From the business standpoint, I definitely feel I have the backing and support in terms of how to grow my business.

- Todd & Julianna Carter, The Tailored Closet of Greater Washington, D.C.