Why Franchise with The Tailored Closet?
Largest Home Organization Franchise
Starting out as Closet Tailors® in 2006, our custom closet business enjoyed outstanding growth in a widening home organization marketplace. In 2011, we entered into a strategic alliance with PremierGarage®, changing our name to Tailored Living® featuring PremierGarage® and expanding to offer organization solutions for the home and garage. But just like any home, good style evolves over time. In 2022, it was time for our brand to truly reflect the modern and customized services we offer for inside the home. That's why Tailored Living became The Tailored Closet. Same great company, new brand name.
We are still the largest home organization franchise in the U.S. and Canada with nearly 200 franchised territories. Our home organization product lines have expanded to whole home organization solutions, including closets, home offices, Murphy beds, entryways, mudrooms, pantries, and more.
The Tailored Closet is part of the Home Franchise Concepts family of brands, one of the largest home services franchisors in North America.
More About the Industry
Strong Growth. Proven Business Model.
Throughout the years, we have worked to perfect our business model, aligning ourselves further with consumer needs and industry trends to continue separating ourselves and elevating our franchise owners above the home organization franchise and storage competition. In an industry that is largely commoditized, The Tailored Closet offers solutions that are specifically suited to a client's individual needs. Thanks to our proprietary 3D design tools and unique product channels we can offer clients a wide range of options for their closets and more.
The true beauty of The Tailored Closet business model is that it is also a whole home organization and storage franchise. As a franchise owner, may be called initially for a closet service, which could potentially lead to creating custom storage solutions for any space in the home including, home offices, pantries, media rooms, mudrooms, entryways – and more – providing multiple revenue streams. Commercial work is an opportunity as a franchise owner advances their business.
The Tailored Closet also implements an outsourced manufacturing model to reduce operational costs for our franchise owners.
Learn About Our Differentiators
Foremost In Training & Support
You don't have to be an expert in sales, design, or installation in order to run a home organization franchise business. Our expert team of trainers will provide you with highly personalized, in-depth training that includes immersive product knowledge, sales and marketing, how to design, and provide expert installation.
After training, a Regional Operation Support Manager will keep you moving forward, offering in-house and online, performance-improving training with specific coaching modules, ongoing education, and improved accountability with one-on-one strategic coaching.
With more than 60 years of combined experience, our team knows the business model and how to help you grow your home organization franchise business. With The Tailored Closet franchise, you're in business for yourself, but never by yourself.
More on Training & Support
Backed by a Leading Franchisor
The Tailored Closet is proud to be a part of the Home Franchise Concepts family of brands which includes several of the leading brands in the home services industry. Home Franchise Concepts is owned by JM Family Enterprises, Inc. with annual revenue that is greater than $18B. When you join The Tailored Closet franchise system, you can be confident you are buying in to a stable and reputable brand.
For 30 years, Home Franchise Concepts has been passionate about providing an opportunity for people from all walks of life to reach financial independence through owning their own business. When you purchase The Tailored Closet franchise, you are joining a successful organization that not only values improving the lives of its customers, the community, and its franchise business owners, but that provides an unparalleled support system to help you through the ins and outs of starting and maintaining your home organization franchise business.
Learn More About Our Family of Brands
Unparalleled Leadership
We have some of the most experienced minds in the franchising industry who are dedicated to helping our franchisees succeed. Our leadership team at the The Tailored Closet home office is focused on delivering on our five core values of Consideration, Cooperation, Communication, Innovation, and Accountability to all of our franchise owners. Our success is measured by your success! We thrive on providing our franchisees with the programs, products and services that consumers recognize as their "go-to" brands in the home services industry.
The Tailored Closet stands out from the rest of the home organization franchises in the industry through our ability to provide our franchise owners with the highest level of continuing support throughout the life of your business. While you are in charge of running your business, you are never truly alone. We are there for you in every step of the way to help you succeed in owning and running a successful home organization franchise business.
Learn More About Us
Hear From Our Franchisees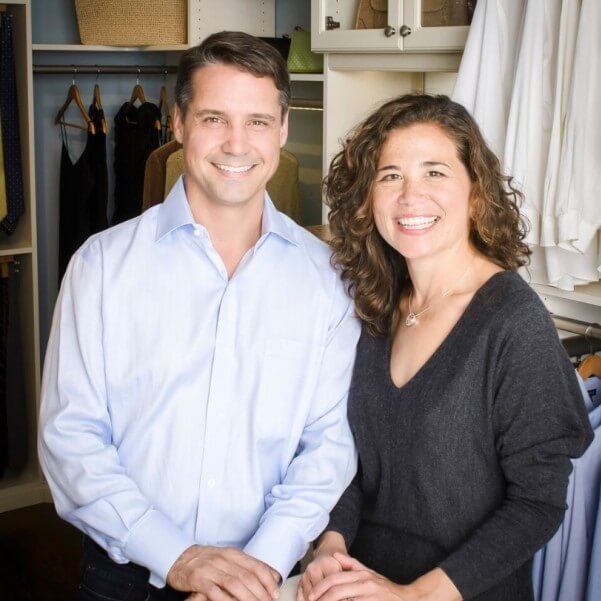 When I have questions, there are very technical people who can help me with specific questions about installation or product parts. From the business standpoint, I definitely feel I have the backing and support in terms of how to grow my business.

- Todd & Julianna Carter, The Tailored Closet of Northern Virginia