Starting a Custom Closet Business: What to Know from Startup to Profitability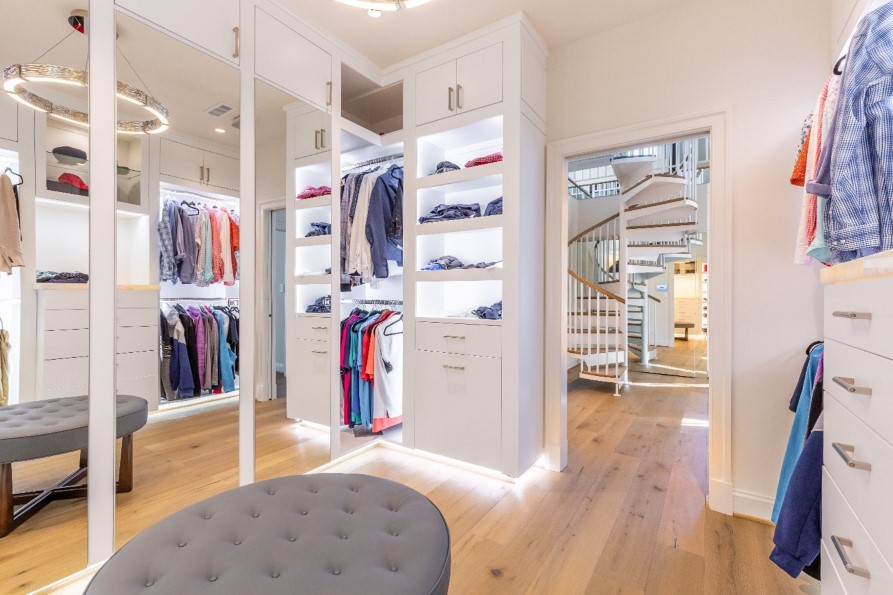 The custom closet industry is growing. Discover the benefits of starting a custom closet business with The Tailored Closet and what it takes to maintain a profit.
Impact of Clutter
The average American household has at least 42 items they don't use anymore, prompting one out of every five people to rent self-storage space, reveals a study conducted by Mercari, a selling app. Half of Americans feel overwhelmed by the amount of stuff in their homes. Clutter and disorganization raise stress levels and research indicates people with cluttered homes generally feel less satisfied with their lives. Clutter can also make it difficult to concentrate and be detrimental to memory, WebMD reports.
Hybrid work schedules and high new home prices are forcing people to take stock of their homes. They are opting to renovate existing spaces, rather than upgrade to a larger home. They're creating multifunctional spaces to maximize size and improve utility. While banishing clutter may seem insurmountable, the custom closet industry offers a solution and the home organization field is in high demand.
Custom Closets Provide Solutions
If you have an eye for organization and an entrepreneurial spirit, starting a custom closet business is an ideal way to achieve financial freedom and job security. The home organization market is thriving as people strive to maximize space in their homes and banish clutter. The home organization products market in the U.S. is valued at $12.2 billion, according to Research and Markets.
Owning a closet business allows you to invest in your future and diversify your income. You'll be able to take pride in your work at the end of the day as you take strides to achieve your goals. But you'll have the backing of a strong business partner with extensive industry experience.
With approximately 164 locations across the U.S., The Tailored Closet is a leading custom home organization franchise. Our closet organization specialists take the time to ask questions about the user to find the best solution, and our product line includes closets, home offices, Murphy beds, entryways, mudrooms, pantries, and more. All of our franchises have access to unique product channels and we outsource manufacturing to reduce operational costs.
"I chose organizational systems and I found the order and efficiency it afforded people in their lives paid for the product 100 times over. I love the fact that adding a little order to someone's home can have such a positive ripple effect throughout the rest of their life," said Tim Wollen, a The Tailored Closet franchise owner in Madison, Wisconsin.
6 Benefits of Owning a Home Organization Franchise
Want to understand why a franchise with The Tailored Closet provides a path to a new future? Let's explore the benefits of starting a custom closet franchise in your local community.
Customer Knowledge. The Tailored Closet stays at the forefront of current customer trends. We know the materials and equipment customers need to clear the clutter and organize their homes. Having collective buying power allows us to source and form partnerships with high-quality, influential vendors and brands in the business.
Multiple revenue streams. The Tailored Closet owners provide services to both homes and commercial businesses. Our franchise owners help other small businesses maximize and beautify their spaces. Having multiple revenue streams helps owners maintain a recession-resistant business and provide scalable growth opportunities.
Costs. The Tailored Closet is one of Home Franchise Concepts' family of brands. Home Franchise Concepts is one of the largest direct-to-consumer franchise companies in North America with more than 2,400 franchise territories in the U.S., Canada, and Mexico. To help entrepreneurs gain a foothold in the home organization industry, we offer $44,000 of in-house financing to trim start-up costs for qualified applicants. It costs approximately $135,220 to get your business up and running, including an initial franchise fee of $19,950 and an initial territory fee of $55,000.
Training. All of our franchise owners receive 10 days of extensive in-person and virtual training to make sure they are prepared for the opening day. Our regional operations managers and design team provide ongoing support. We host regular webinars, regional meetings, and an annual convention to provide you with resources, continuing education, and networking opportunities.
Marketing support. As a franchise owner, you get to pool your marketing resources to help support national and local advertising. We have a turnkey, local marketing tool kit, as well as national lead generation programs.
Innovative technology. We have proprietary 3D software and a CRM system to run your business. The 3D software helps paint a picture of the final product for your client and enables them to shop for home organization from the comfort of their living room or kitchen table. Our CRM system gives you flexibility and allows you to run your business from a home office.
Learn More About The Tailored Closet
Inquire now to learn more about starting a custom closet business with The Tailored Closet and connect with one of our franchise advisors.