Why the Home Renovation Industry is Thriving During COVID
The demand has never been higher for home renovations or remodeling. Here's why the pandemic has driven big business for the home renovation industry.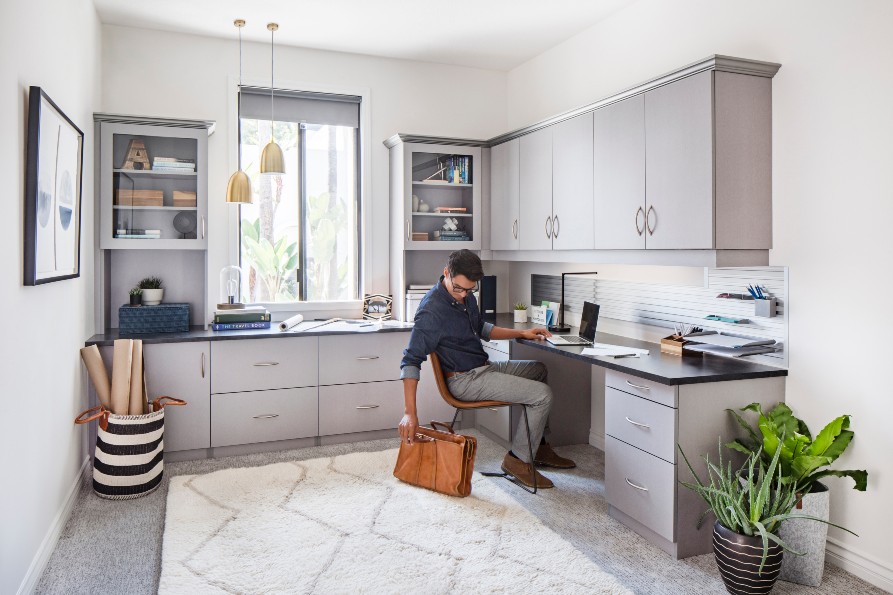 STAY AT HOME IMPROVEMENT
Recent research from Consumer Specialists and the Home Projects Council examined why 57 percent of homeowners put an emphasis on home improvement during the first three months of COVID-19.
The quarantine orders that halted the world in the first quarter of 2020 drastically impacted how and where we all spent our time. Shopping and socializing were restricted, and most workplaces and schools were shut down in favor of remote learning and telecommuting. Many of us, and the state of our homes, were unprepared for this sudden shift, but we had to adapt quickly.
MOTIVATION MATTERS
The COVID-19 pandemic has affected the real estate and housing markets in unprecedented ways. Relocation became an impossibility, either due to financial challenges, travel restrictions, or a combination of the two. For many people, investing more in their current homes and optimizing their living spaces became a necessity, but also a welcome project. With time on our hands, we were dusting off those old to-do lists and finding areas around the house that called for improvement.
According to HomeAdvisor's latest annual spending report, home improvement spending in 2020 averaged $8,305—up by $745 from the previous year. This jump can be somewhat attributed to the increase of time being spent at home. However, as the world reopens to a post-COVID landscape, the market will continue to grow, with global revenue predicted to reach $500 billion by 2026.
Through those efforts, not only are homeowners adding to the quality of their lives, but they are likely adding to the equity of their homes. Around 15 million residential properties were considered equity-rich in the second quarter of the year, meaning mortgages on those properties were 50 percent or less than the value of the home.
By investing in home improvement endeavors during the pandemic, homeowners added significant value to their properties, while sheltered at home, giving them more options for the future.
MULTI-FUNCTIONAL & OPTIMIZED
While homeowners took this unforeseen opportunity to improve their living spaces, home improvement businesses capitalized on the uptick in demand. Many people took the do-it-yourself route; according to a recent U.S. Census Bureau report, home centers, hardware stores, garden centers and building suppliers reported a year-over-year sales increase of 22.6 percent, excluding online purchases. Houzz, an online home remodeling platform, reported a 58 percent annual increase in project leads for home professionals in June 2020.
While there was certainly an uptick in home improvement industries such as landscaping, roofing, and external painting, home organization businesses provide highly sought-after services for home owners seeking to organize within their homes.
The Tailored Closet provides homeowners a welcome, expert-driven resource for customizing their living spaces with the help of professionals to do all the work for them.
ORGANIZING THE PRESENT, INVESTING IN THE FUTURE
The Tailored Closet is a standout brand in the home organization sector that focuses on making homes more organized and harmonious by working closely with customers to design and install custom storage solutions for closets, pantries, offices, laundry rooms, entry ways, and more. Additionally, our Commercial Solutions include a full line of commercial cabinetry and flooring for any office needs from desks and multiple workstations to filing and storage areas.
With low overhead, high margins, no inventory, and a large territorial footprint, this franchise business is great for entrepreneurs who want to be heavily involved with owning a business with minimal employees as well as for the empire builder who wants a management role and growth potential.
The Tailored Closet (formerly Tailored Living®) consistently ranks on Entrepreneur magazine's Franchise 500® list for our outstanding performance in areas including unit growth, financial strength, stability, and brand power, The Tailored Closet not only appeals to homeowners, but to prospective franchisees interested in joining a winning brand.