If you Love DIY, Puzzles, And Building Things You Should Buy a Franchise
If you can look at blank space, challenging storage, and general chaos and see organization potential, you may be a natural for owning a Tailored Closet franchise business. Your inherent love of organizing and creating will serve you well building a business as the local expert for whole-home organization solutions that will help people live more stress-free lives.
Become the "closet whisperer" for walk-ins, reach-ins, hallway, utility, and the problematic under-stairway closets.
Master the art of designing home offices for the new work-at-home surge from pre-designed desks to penthouse-worthy, all-inclusive custom offices.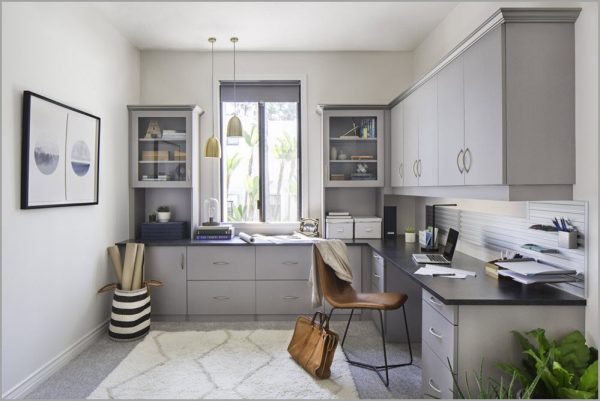 Efficiency and productivity will skyrocket for clients with a custom home office that organizes everything to get the job done right
Our franchise owners repeatedly report that customers tell them that the storage and organization solutions they've installed have "changed their lives." Transforming chaos into calm gives people both physical and mental space to live more comfortably in their own homes. As a Tailored Closet design specialist, you'll get to do that every day, with a little training and just doing what comes naturally!
The Tailored Closet magic for you
As an independent franchise business owner, you'll enjoy many benefits of owning a business that will also change your life. The comprehensive training and ongoing supportive infrastructure of parent company, Home Franchise Concepts (HFC) means you can even change careers knowing you'll get everything you need to reinvent your work life and build a successful Tailored Closet franchise business.
No experience necessary, you'll be trained in every aspect of design, installation, and business practices, with ongoing training and support teams for running your business.
Develop a work calendar that gives you more flexibility for family time, such as no late nights, no Sundays and yes! to vacations, family reunions and your kids' games.
Scalable to the size of business you want with one or multiple territories and teams.
Residential and commercial markets create a broad customer base.
Work with your spouse, kids, and even grandkids; build a legacy business.
If you like running the business, hire installers and salespeople, or hire an admin team and do the design, sales and hands-on yourself.
Every day brings new consultations, new people and new challenges to keep you energized and excited.
The magic you bring to customers
Essentially, you put everything in its place with innovative, customized storage and organization solutions for every area of their home or business. Maximizing all the space makes homes feel bigger, including capturing unused space in attics, lofts, and basements and turning it into functional living space. Custom built-ins are enjoying a resurgence of popularity in all home styles and with all generations, and designing entertainment centers, entryways, window seats, laundry rooms, and pantries will be all in a day's work by helping customers achieve the goal of a calm and orderly home, exactly to their taste.
Every project is "made to measure" for each customer's unique space and storage needs.
The personal touch includes really listening to define needs, desires, and budget.
The showroom comes to them with samples and finish options either with an in-home consultation or a virtual consultation.
Our proprietary 3D design software lets them actually see how their project will look, in place and in color.
We use the highest-quality products that offer the latest in home décor style, color, and finishes.
White-glove professional installation ensures their complete satisfaction.
You're the local, neighborhood expert who is just a phone call away for questions or concerns.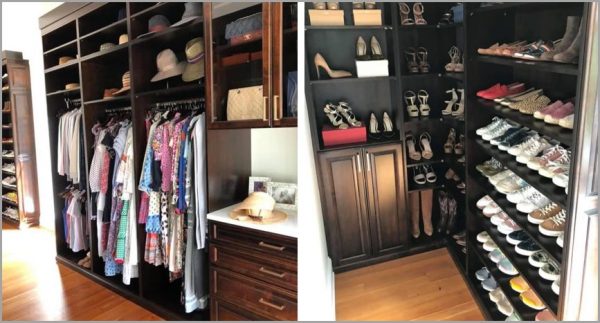 Custom master closet design helped to bring a historic 1880's home into the 21st century and to inclusion in an upcoming Architectural Digest (Courtesy of The Tailored Closet of Lexington, KY)
Build your business with the best
As a Tailored Closet independent franchise owner, you become part of the largest whole-home organization franchise in the U.S. and Canada and part of HFC's 1,800-strong franchise network. With four award-winning franchise brands and over 27 years in franchising, HFC is one of the largest home services franchisors in North America, and the world's best-selling, direct-to-consumer franchise family in the home improvement industry. As a franchise business owner with HFC, you build on a strong infrastructure with a proven business model and an extensive, comprehensive support system.
Low initial fees with low overhead.
Protected territories, no in-company competition.
Flat royalty and marketing fees let you keep more of what you make.
Three weeks of intensive training covers business practices, product education, and installations.
Ongoing, in-depth online training, educational videos and cutting-edge technology.
National advertising and local area marketing tools, including a strong digital focus.
A Vendor Alliance of high-quality vendors who give you best products at best prices as well as product training and design assistance.
HFC Home Office runs national campaigns with 24/7 lead-generating communications.
Change your world, starting today
If you've ever considered owning a business and being your own boss, franchising is a way to avoid some serious business startup headaches and go straight to work doing something you love! Products and markets are defined, and the business model gives a clear track to run on. If you're ready for a new, improved 2021 where you have more control of your future, request more information or call (800) 420-5374 to talk to one of our Franchise Licensing Advisors. You owe it to yourself to learn more about becoming an independent franchise business owner with The Tailored Closet and see if franchising is the right move for you.
Also check out our sister brands within the HFC franchise family: Budget Blinds®, Concrete Craft®, and AdvantaClean®.